858-455-5800

Home

Shop Online

Products

Services

Customers

Picture Gallery

Request Literature

Ask the Experts

Newsletters

FAQs

Contact Us

About Us






Guaranteed Secure
Shopping
Products: Wirecrafters - Introduction

---

Style 840 - Woven Wire Partitions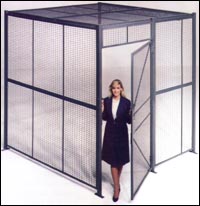 For over 25 years, Wire Crafters has manufactured a revolutionary style of woven wire partition. Contrary to traditional systems, our Style 840 is based on the simple idea that 4' or 5' high panels stack one on top of the other between tubular posts to reach the finished partition height. This all welded, modular, stackable system has benefits unequaled in the industry.
SIMPLE
Wire Crafters' system utilizes twenty basic panels to accomplish virtually any layout. There is no need to distinguish between wall or ceiling panels simply bolt between posts. There is no need to determine if stiffeners are needed or where to place them.

RIGID
Sytle 840 Partitions are strong. Panels bolt directly to support posts which are set on maximum 10'-2" centers. The posts have base plates welded to them for direct anchoring to the floor. Standard 3/8" wedge anchors hold the partition firmly in place, eliminating the need to core drill post holes and permanently damage your plant's floor.

FAST
Wire Crafters' system installs much faster than other style partitions. Not only does our system use fewer parts, but our angle frame panels give the installer clear access to all mounting hardware. These features cut down the time needed to install the partition and help hold down the overall cost of you project.

SECURE
Not only is our 3/8" assembly hardware the heaviest in the industry, it is inaccessible from the exterior of the partition. The face side of the angle frame panel obscures all hardware from view. Bolts are only accessible from inside the secured area. This feature prevents intruders from disassembling the partition to gain access.

ATTRACTIVE
Style 840 Partition's straight lines and clean exterior makes a handsome finishing touch to your storage area.

AVAILABLE
Wire Crafters has a high commitment to customer service. All standard parts are stocked at our warehouses, ready for shipment within 48 hours of your order.

ADAPTABLE
The benefits of Wire Crafters "building block" approach to wire partitions show best in tough applications. The inherent strength of our system, coupled with its simple design and our years of experience allow us to complete the most complicated projects with ease. So break with tradition and go with the best.