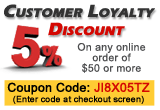 Our way of saying thanks!
We're offering 5% off any order over $50 placed through our online store.
Simply enter the coupon code JI8X05TZ during the checkout process to apply your discount.
Get this great discount on items such as belt conveyor, gravity conveyor, conveyor parts, conveyor supports and more...
Place any order with us and get a free Atlas Equipment t-shirt.
Click Here For A Closer View Of The Shirt