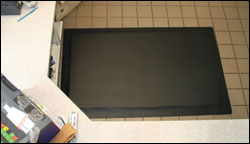 Xtra-Flex was developed to give a significant advantage when competing with a polyurethane product. The challenge was manufacturing a softer mat with the necessary rebound properties while maintaining the wear characteristics that are the hallmark of Rhino Mats.
The elastic properties of Xtra-Flex foam in combination with the Performance Rated Polymeric top surface gives the Xtra-Flex mat a buoyancy and bounce that resemble the natural springiness of walking on a fresh mowed lawn.
Every foot movement on an Xtra-Flex mat is absorbed by the Xtra-Flex Microcellular Foam base to reduce any impact effects. It springs back to deliver that small amount of energy back to the feet and provides a vitality that stimulates good circulation, the essence of a healthful life.
The Xtra-Flex rebound properties and resiliency are backed by a five year performance guarantee. Xtra-Flex anti-fatigue mats are a full 7/8" thick, double the thickness of ordinary mats.