858-455-5800

Home

Shop Online

Products

Services

Customers

Picture Gallery

Request Literature

Ask the Experts

Newsletters

FAQs

Contact Us

About Us






Guaranteed Secure
Shopping
Products: Proper Storage Systems

---

Custom Roll-Out Shelf Units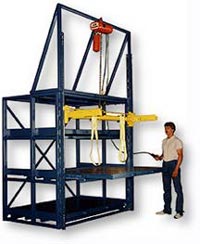 Custom roll-out shelf units with a mini bridge crane. The bridge crane has 6 way travel with straps to lower items stored onto shelf. Custom cradling or blocking can be supplied to suit your needs.

SHELF SIZES
36" TO 480" WIDE
36" TO 96" DEEP

30 TO 40,000 POUND
CAPACITY PER SHELF


Ergonomic Standard Roll-Out Shelf Units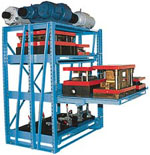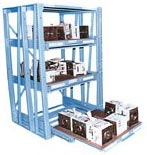 With Safety Interlock That Lock All Other Shelves In When One Shelf Is Rolled Out

Manual roll-out shelf units are ideal to store items such as fixtures, dies, molds, cylinders, grinding wheels, gauges, broaches, work in progress, tooling, etc.

Each shelf and the top of the unit have a 2000 pound capacity

Units ship assembled with an installation kit that includes leveling shims and anchors.

Clear space between shelves will be as indicated in the "clear space" column.

(Shelves can be relocated on 1 inch increments)

Enclosed Ergonomic Standard Roll-Out Shelf Units

Roll-Out Shelf Units with Monorails or Cranes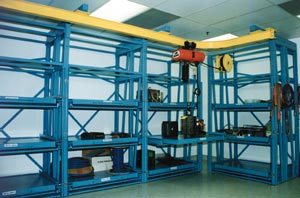 Roll-out shelf units with cantilevered monorails are ideally suited for locations where it is difficult to install an overhead crane, such as areas with acoustical ceilings, under bridge cranes or where pipes or other obstructions are in the way. These ergonomic roll-out shelf units save space and reduce the risk of back injury.


Roll-Out Shelf Units for Cylinder Storage
We can store cylinders with diameters from 3 inches to 60 inches, lengths from 2 feet to 40 feet, weights from 30 pounds to 40,000 pounds.

Cradling is designed to fit the contour of the shaft and has tapered slots that keep the cylinders from bumping into each other.


Air Powered Roll-Out Shelf Units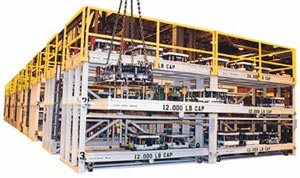 These air powered roll-out shelf units are ideal for storing large, heavy, and awkward items, such as molds, dies, fixtures, cylinders, tooling, etc.

SHELF SIZES
36" TO 480" WIDE
36" TO 96" DEEP

3,000 TO 40,000 POUND
CAPACITY PER SHELF

Air powered roll-out shelf units can be furnished with sides, backs, and doors.
Ten of these units store half a million pounds of injection molds in 1,000 square feet of floor space. These molds were previously stored on pallets and took up 10,000 square feet of space. The molds were picked up with a forklift and moved to the machine area. Our units were installed in the machine area and the molds were then picked up by an overhead crane and set directly into the machine. This saved two or three steps in material handling and cut change over time from one and a half hours to fifteen minutes.

Roll-Out Shelf Units for Cylinder Storage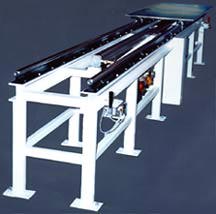 Transfer Tables with capacities from 500 to 12,000 pounds built to your specifications, up to forty-five feet long.