858-455-5800

Home

Shop Online

Products

Services

Customers

Picture Gallery

Request Literature

Ask the Experts

Newsletters

FAQs

Contact Us

About Us






Guaranteed Secure
Shopping
Products: Metro

---

Are you ready to put space to work? Presenting cart and shelving systems built purely for productivity. Metro offers many potential solutions that address the storage and transport needs for a variety of general material handling applications. So no matter what the problem, now you can handle it.



Benchside Tote Cart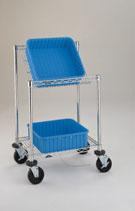 Metro's Benchside Tote Cart allows technicians to position bins, totes, cartons, boxes, or work-in-process at a conducive working angle. Each unit comes with a 45° slanted top shelf, standard Super Erecta Shelf at bottom, four casters (two with brakes), aluminum split sleeves, and a grounding cable.

Benefits:
Accommodates miscellaneous totes, cartons, or other items.
Uses minimal amount of available floor space.
Offers easy mobility and holds cart stationary at desired location.
Provides for dissipation of electrostatic charges.

Cart Covers (Standard)
Protect contents from dust and other air borne contaminants. Covers deter pilferage and allow units to be loaded prior to transport. Available in nylon uncoated or vinyl coated materials. All covers are available in white or colored with a zippered or Velcro closure.

Stem Casters
Use with Super Erecta posts and shelves to create a mobile shelving unit to meet your special needs.
Polymer Casters
Innovative polymer stem casters offer total corrosion resistance and enhanced durability. Cart-washable design features all-polymer horn, stainless steel axle and hardware, 5" (127mm) diameter polyurethane wheel, sleeve-style axle bearing and an optional toe-operated break mechanism. For all medium-duty applications.

MetroFlex Carts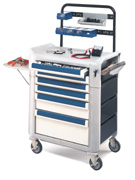 Guaranteed not to rust, chip, dent, peel or corrode, MetroFlexT carts are constructed of advanced polymer materials. The versatile drawer system can be easily reconfigured to meet your precise needs in any setting. The optional overbridge assembly provides a place to hang or attach additional accessories. Specifically designed to put tools and materials close at hand.
A MetroFlex small parts cart is perfect for the workshop or as a mobile repair station that can move anywhere in the plant.

MetroMax Shelving/Carts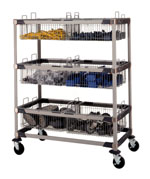 The most versatile storage system on the market, MetroMax's lightweight, open architecture advanced polymer framework allows easy access. Dividers, lift-out baskets, shelf mats, ledges, bins, enclosure panels and other accessories can be removed and readjusted in seconds without tools. Storage levels adjust at 1/2" (12.7mm) increments, and shelves hold up to 800 pounds (360kg) each. Crevice-free design and wire mats speed cleaning and increase visibility. Its modular format is perfect for parts storage in the factory or manufacturing plant.

Super Erecta® Carts/Shelving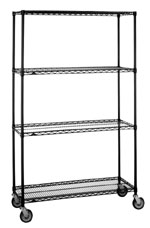 Super ErectaŽ carts are built for strength, versatility, and durability. Shelves hold totes or work-in-process securely, and can be adjusted at 1" intervals. Open wire surfaces minimize dust buildup and increase air circulation and visibility. Configuration possibilities include solid or wire shelves and a selection of swivel, rigid, or brake-type casters for maximum maneuverability.

Tote Box Carriers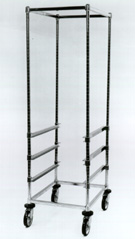 Metro Tote Box Carriers provide efficient handling of totes, trays, or other miscellaneous material handling containers. Available in single, double, or triple bay configurations.

Carts, (BC Utility)-Polymer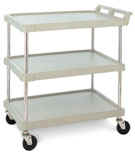 Metro's new BC Series Utility Carts are designed for a wide variety of applications. Shelves are specially designed to resist staining and wipe clean easily. Ship's edge lip around shelf perimeter contains spills. Available in 2-shelf, 3-shelf, 3-shelf enclosed end, and 3-shelf, 3-sided enclosed styles. 4 colors to choose from including: Beige, Gray, True Blue and Teaberry.

Carts, Utility - Wire

The most efficient way to create mobile space, Metro MW Utility Carts offer a level of versatility and durability you'll find nowhere else. These cart systems are available in the sizes and styles that will best suit your environment, letting you create a highly-effective transport system no matter what the need. Metro carts are ergonomically-designed for low-effort transport, and give you the precise handling you need to maneuver in close quarters.