858-455-5800

Home

Shop Online

Products

Services

Customers

Picture Gallery

Request Literature

Ask the Experts

Newsletters

FAQs

Contact Us

About Us






Guaranteed Secure
Shopping
Products: Lyon - Storage Lockers

---

Steel Lockers
Single Tier Lockers (shown right) afford full length clothing storage with shelf for hats, personal effects
Double Tier Lockers offer more capacity for short-term occupancy or where long coats are not worn
Triple Tier Lockers have the same benefit as double tier, yet offer more openings
Multiple Tier Lockers provide high density storage for individual belongings & supplies

LockerRack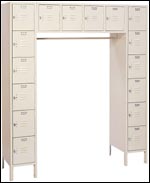 Provides coat storage and lock-up compartments for 16 people in one halve square foot per person. Door pulls serve as padlock hasps (padlocks not furnished). Built-in locks and number plates may be added. Shipped knocked down (with frames and doors factory assembled in two upright sections and one horizontal center section) or fully assembled

Storage for Two People in a Space Only 15" Wide

Each occupant has a full-length coat compartment with two hooks, plus a full width opening at top for small articles. Left door and upper compartment work together as do the right-hand door and lower compartment. Coat compartment doors have handles with padlock attachments. Built in locks are optional.

Designer Line Lockers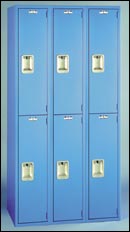 Available one-wide or three-wide, designer lockers feature quiet-door operation and recessed handles with finger lifts. Flush mounted doors have no louvers.

Also Available: E-Zee Style Locker Bases
Adds 4" to the overall height and provides an attractive support with closed front and sides - open back. For single-row, wall anchored installations only. Black finish

Laminated Hardwood Locker Benches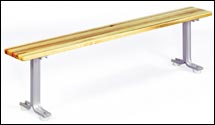 Selected hardwood bench tops provide strength and beauty, while painted steel pedestals in your choice of Dove Gray or Putty feature rust-resistant durability.

Expanded Metal Lockers
These lockers provide ideal clothing and uniform storage. The increased ventilation reduces odors, while the visual inspection encourages neatness and discourages storage of unauthorized articles.
Heavy duty 13-gauge expanded metal steel diamond mesh construction, front and sides. Box locker doors are diamond perforated
Handles have built-in padlock attachment and may be equipped with built-in locks
Sizes shown are per locker door opening
Catalog numbers shown are for lockers with 6" legs. Available without legs
Lockers are shipped knocked down
Available:
Single Tier Lockers, 24" Wide Team Lockers, Double Tier Lockers, Six High Box Locker