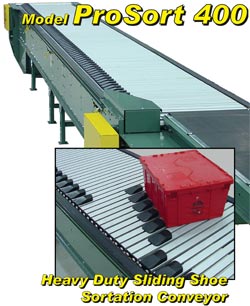 Hytrol's ProSort 400 is a heavy duty sliding shoe sorter designed for high speed applications where product diverting needs to be both positive and gentle. Products are transported on anodized aluminum slats where at a predetermined location, divert shoes move diagonally across the conveyor to push the product onto a take-away conveyor. The ProSort 400 may be configured for diverting products to the right hand or left hand side of the sorter. Also it may be configured for diverting at 30 degrees where close divert centers are important or 22 degrees where high speed is required.
FEATURES
High Speed - 600 FPM
Precisely Timed, Engineered Divert Switch
Anodized Aluminum Slats
Lubricated and Sealed O-Ring Chain
Precision Bearings on Chain
Covered Chain
Quiet Operation
Dual Synchronized Drives for Extended Lengths
---
COMPONENTS PROFILES
• Available in 5 standard widths • Available with right hand, left hand, or dual sided diverts
• Speeds up to 600 feet per minute
Highly Engineered Divert Switch

Precisely timed switch operation providing long life and high speed
Radiused components for quiet operation and extended life
Easily removed
Pneumatically operated for long life and low maintenance
---
Variable speed drive standard for optimizing sorter operation during peak and non-peak throughput periods

Heavy duty bearings for long lengths and high speed

Shaft mounted drive for low maintenance and simplicity

Auxiliary drive available for extended lengths

30 degree diverts for close divert center and 22 degree diverts for high speed
---
Flight chains fitted with precision bearings for high speed and low horsepower

Bearings run on engineered polyurethane track for low noise

Lubricated and sealed o-ring chain
---
COMPONENTS PROFILES (continued)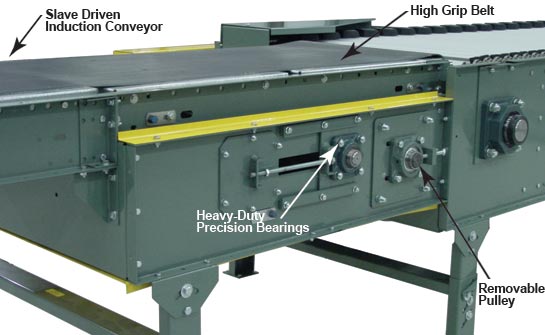 ---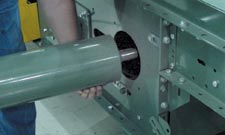 Integral Induction Conveyor featuring:
High grip belt for maintaining carton position during induction
Removable pulley design for ease of maintenance
Slave driven from sorter for maintaining carton gaps and eliminating unnecessary drives
Heavy duty precision pulley bearings for high speed and trouble free operation
---
ProLogix Integrated Sortation Control

Fast trouble free start up
Consistent and reliable sortation
Flexible for any sorter configuration
Built in diagnostics and statistics
Maintenance and operator friendly
Available with plug-n-go wiring
---
COMPONENTS PROFILES (continued)
Modular design for ease and flexibility of system design and installation
Factory assembled and test ran for trouble free installation
Available with powered or gravity take away lines
Robust divert shoe designed for
directing loads. TPR pusher face
for gentle handling of product.
Double Sided Shoe
Single Sided Shoe
---
APPLICATION

The ProSort 400 sliding shoe sorter is designed for high speed sortation of a wide range of product sizes and weights. The ProSort 400 offers a sortation solution that is both positive and gentle for a reliable sort even if the product being conveyed is fragile in nature. Its versatility makes it ideal for various markets including product distribution, manufacturing, and mail order fulfillment. The ProSort 400 is suitable for sorting almost any product including electronics, groceries, pharmaceuticals, general household items, clothing, and building supplies.

The ProSort 400 is configurable with 30 degree diverts for close divert centers when space is limited or 22 degree diverts for high speed distribution of product to shipping doors. It's standard modular design allows it to be easily integrated into almost any sortation system and when the need arises it can be customized based on a particular system's requirement.
---
"SPOTLIGHT" is a publication by Hytrol Conveyor Company, Inc. - Effective January 2004
All Materials Copyright 2004-2005 Hytrol Conveyor Company, Inc.