858-455-5800

Home

Shop Online

Products

Services

Customers

Picture Gallery

Request Literature

Ask the Experts

Newsletters

FAQs

Contact Us

About Us






Guaranteed Secure
Shopping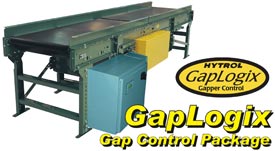 GapLogix is a standard control package designed for Hytrol's Gapper. GapLogix will set a specific gap or pitch independent from product length. GapLogix allows you to quickly and easily customize the controls reaction to your product and be up and running in a short time after installation. GapLogix is a proven control package that provides a consistent quality of performance from location to location around the world.
FEATURES
Ease of setup - quicker startups
Optimize gaps - higher system throughputs
Configurable to meet specific product requirements
Flexible - sets gap or pitch
Dynamically choose 1 of 4 gap/pitch settings on the fly
Diagnostic error messages for ease of troubleshooting
Hardwired interlock signals for flexible integration into any system
Screen access is protected by password
---
FORMULA
As cartons pass from the infeed belt to the higher speed discharge belt, a gap is created between cartons. This speed differential is known as the SGR (speed gap ratio). As cartons pass from Gapper to downstream conveyor, GapLogix sets the specified Gap or Pitch for each product.

---



GAPLOGIX SCREENS
GapLogix screens are used to set up the performance of the Hytrol Gapper conveyor. Each setup screen asks a multiple-choice question or a limit question that will tell GapLogix the limits under which it should operate the Gapper. This can be based on the product and/or the application.
APPLICATION
GapLogix provides stand-alone, complete control for an individual Gapper for flexible integration into any conveyor system. GapLogix provides the ability to quickly and easily customize the controls to a specific Gapper and be up and running in a short period of time. GapLogix comes with default settings, but they may be customized to properly control the range of product. After product has crossed the fixed speed ratio in order to create a gap between products, GapLogix measures the gap or pitch, makes adjustments, and returns to line speed as the product transfers onto the downstream conveyor. GapLogix may be used for feeding sortation equipment, weigh scales, labelers, and other applications where gap or pitch setting is required.

GapLogix optimizes the performance of a system by eliminating wasted space due to excess gaps between large products. This allows system throughput requirements to be achieved at lower conveyor speeds. GapLogix provides ease of setup, flexible application, ease of troubleshooting, accurate control, and is fully supported by Hytrol.
---
"SPOTLIGHT" is a publication by Hytrol Conveyor Company, Inc. - Effective January 2004
All Materials Copyright 2004-2005 Hytrol Conveyor Company, Inc.