858-455-5800

Home

Shop Online

Products

Services

Customers

Picture Gallery

Request Literature

Ask the Experts

Newsletters

FAQs

Contact Us

About Us






Guaranteed Secure
Shopping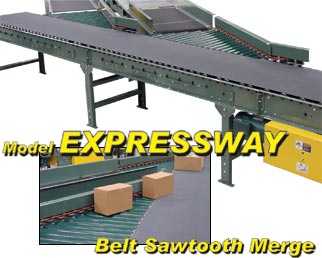 Hytrol's Expressway belt sawtooth offers an all new concept in sawtooth merges. It consists of a belt-over-roller design. The rollers extend beyond the belt into the "tooth" where their diameter is increased. This increased diameter allows merging cartons to transition onto the belt. The tooth also contains a powered guide rail to positively convey merging product through the "tooth" area.

The Expressway is modular in design, allowing it to be easily configured for your particular requirements.
FEATURES
Quiet Operation
Positive carton merging
High Speed
Trackable Cartons
Modular Design
Robust Construction
---
Belt-Over-Roller design
for tracking products
Powered Guide Rail in tooth
area for accurately tracking
cartons through merge
High Friction Belt Surface on
rollers for accurate belt tracking.
APPLICATION
The Expressway is designed for high speed merge application prior to sorting cartons for warehousing or distribution.

---
"SPOTLIGHT" is a publication by Hytrol Conveyor Company, Inc. - Effective January 2004
All Materials Copyright 2004-2005 Hytrol Conveyor Company, Inc.